Love...
Love matters ...Listen
Love matters...Light
Love matters...Truth
Love matters ...Relationships
Love matters...Trust
Love matters in...Joy
Love matters in The Journey...
Love is...What to you?
Inspire...
Listen to Love :: Love to Listen
Love Today!
Strengthen...
Your Mind, Body, Soul, and Spirit in Love
Others with your love
Teach...
In thought, in word, in expression, in deed...
Yes, by listening...
Encourage...
Be Joyful, thankful...
You are unique!

And so are your friends and your family...
Tell them!
BE WITH them!
Send an email!
Write a note!
Send a card!
Call and text them!
Need...
Needs vs. Wants...
Isn't our greatest need and desire simply Love?
"The one who does not love does not know God, for God is Love."
-I John 4:8*
"...and put on the new self, which according to God has been created in righteousness and holiness of the truth.."
-Ephesians 4:24*
"Therefore, laying aside falsehood, speak truth, each one of you, with his neighbor, for we are members of one another."
-Ephesians 4:25*
"This you know, my beloved brethren. But let everyone be quick to hear, slow to speak and slow to anger;"
-James 1:19*
"Let the word of Christ dwell richly within you, in all wisdom teaching your minds psalms and hymns and spiritual songs, singing with thankfulness in your hearts to God."
-Colossians 3:16*
"There is therefore now no condemnation for those who are in Christ Jesus. For the law of the Spirit of life in Christ Jesus has set you free from the law of sin and of death."
-Romans 8:1,2*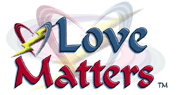 LoveMatters.org is sponsored by McDel Publishing
LoveMatters.org is not a non-profit organization
Profits from Love Matters™ Motivational Gifts
available at the McDel Gifts & Gear Co. web store are donated
to non-profits listed above and/or to local non-profits serving people.
PO Box 2108,
Grand Junction, Colorado 81502  USA
970-208-3348
©2001-2016. All Rights Reserved. Privacy Policy